Welcome to Volunteer Partners!
We exist to raise awareness for our cause and bring change to the lives of those we serve in our community. With your help we can make a difference. Our website furthers our mission by providing ways for you to learn more and get involved. Thanks for visiting. Your support is appreciated.
Find Volunteer Opportunities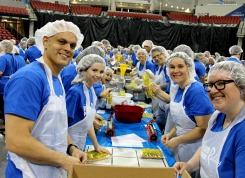 Join us Mon. April 6 as we pack
40,000 meals in 2 hours
6:30pm - 8:30pm
Pinnacle Bank Arena
Register to Rally!
$10 registration
includes a Rally t-shirt
Where else do you get
to ROCK A HAIR NET?
News & Announcements